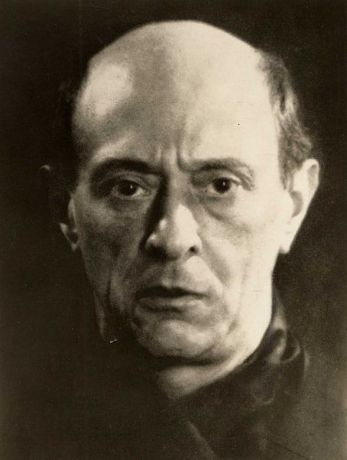 On the occasion of the festival "100 Years of Copyright" the Haus der Kulturen der Welt and the ensemble zeitkratzer announce the very first Arnold Schönberg Award. Composers of all ages are invited to submit Cheap Imitations of Schönberg's works. All kind of propositions are welcome. Scores / playing instructions / concepts should be as short as possible.
Subject: The basic critical-compositional question is: Did Arnold Schönberg go to too much trouble when writing out his works, and wouldn't there be much simpler ways to recognize and convey the special characteristics of a special composition? For instence rough indications as to the instrumentation, the sound factors, the melodic gesture, or the contrapuntal qualities? Reinhold Friedl has already managed to reduce Schönberg's Pierrot Lunaire to its sound gestures in such a way that even Schönberg's children deemed the work to be an "unauthorized adaptation." Since this could not be held up in terms of copyright law, this work will also be heard as part of the award ceremony.
Concert: A pre-selection of the submitted works will be performed at the Jury Concert on October 21, 2018 at the Haus der Kulturen der Welt in Berlin by the ensemble zeitkratzer, under the direction of the internationally renowned curator and honorary conductor (Workers Chorus of the Copenhagen Shipyard) Thorbjørn Tønder Hansen (Copenhagen/Oslo), then publicly discussed, analyzed, and evaluated.
Jury: The following international experts confirmed to be part of the jury: Prof. Dr. Dörte Schmidt (Universität der Künste Berlin, President of Gesellschaft für Musikforschung Germany), Prof. Diedrich Diederichsen (Akademie der Künste Wien, Curator of the 2CD "Diedrich Diederichsen trifft Arnold Schönberg"), and the contemporary music specialist Nicholas Isherwood (bass baritone).
Award: The festival "100 Years of Copyright" will try to invite the finalists to the Jury Concert in Berlin. zeitkratzer is planning to record and publish the compositions of the finalists on a special Schönberg Cheap Imitation release. First Prize will include a special surprise!
Originals: The following works by Schönberg are recommended for reduction (but any other work of Arnold Schönberg can be chosen too): String Trio Op.45, Five Pieces for Orchestra, Op.16 (also individually), Suite Op.29, Variations for Orchestra Op.31, Three Pieces for Chamber Ensemble, Herzgewächse Op.20, Erwartung Op.17; any literal adoption of melodies and melodic fragments is inadmissible due to copyright!
zeitkratzer instrumentation: clarinet/bassclarinet/flute (Frank Gratkowski, Berlin); clarinet/alto saxophone/flute (Hayden Chisholm, Belgrade); trombone (Hilary Jeffery, Berlin); piano (Reinhold Friedl, Berlin/Vienna); percussion (Maurice de Martin, Berlin); violin (Lisa Marie Landgraf, Palermo/Berlin); violin (Biliana Voutchkova, Berlin); cello (Nora Krahl, Berlin); double bass (Ulrich Phillipp, Wiesbaden);
Special Guest: Nicholas Isherwood, bass baritone.
Deadline for electronic disposal (pdf): October 1, 2018. Please send to: schoenberg@zeitkratzer.de
Contact & further information: schoenberg@zeitkratzer.de, Facebook: "Arnold Schoenberg Award".