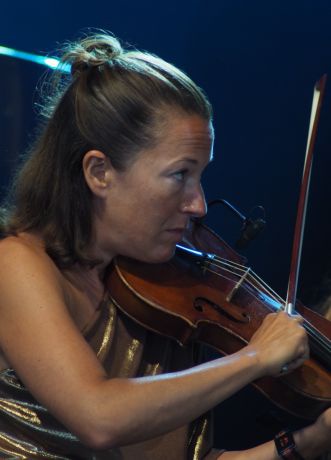 was born in Düsseldorf, where she grew up with Robert Schumann, Joseph Beuys and Kraftwerk. After her studies in Berlin (Germany), Amsterdam (Netherlands), Bloomington (USA), and Antwerp (Belgium), she worked worldwide as concertmaster, soloist, chamber music partner, and a member of leading ensembles. Her activities include an intense interest in "historically informed interpretation", as well as in performance (in collaboration with director Werner Schroeter), and experimental music. Lisa Marie Landgraf is based in Berlin and Palermo, Sicily. She has been playing with zeitkratzer since 2011.
Lisa plays three different violins: the "underground violin," which helped her grandfather survive the second world war. Since then, the instrument was neither played nor heard for a very long time, until Lisa performed "Mr. Emmet Takes a Walk" in an unfinished underground station in Düsseldorf City.
Lisa's second instrument was bought years ago and is a 1920s Cologne violin from the Guadagnini School. It proves time and again to be astonishingly versatile, as heard on Lisa's Schumann recordings, where the instrument is credited as "Francesco Pressenda." But the crown jewel of Lisa's violins is definitely the real David Tecchler that she lovingly calls "The Stamp." Its body is light and petite but its sound carries far, oh so far...
Lisa Marie Landgraf in Sicily and Berlin.